A few weeks ago we quietly launched our new website.
If you've ever gone through a rebrand or redesign, you might be able to relate to the special kind of pain and stress that this process can provoke.
Redesigning and repositioning your own business and brand is not for the faint of heart.
Especially so when your job is helping others clarify their messaging and offers, and communicate their brilliance online. I've worked with many clients over the years, helping them clarify their messaging, their brand voice, and their offers, and the process almost inevitably involves some level of personal or existential crisis.
In order to represent yourself with any kind of accuracy and attract your ideal clients and customers, you have to have ruthless clarity about what you do, what value you provide for people, and how you can help them. Before you hire that copywriter, photographer, or designer, it helps to know your process inside and out, and you've got to be keenly aware of your strengths and weaknesses.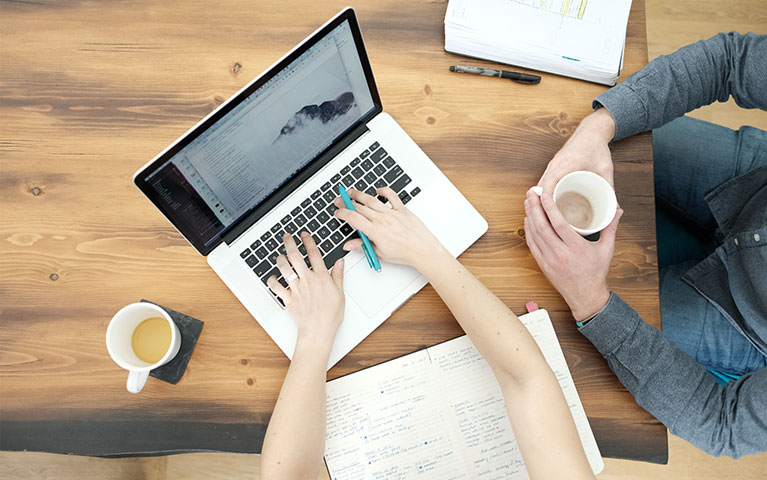 It's nearly impossible to redesign your online presence without some seriously deep introspection, both personally and professionally.
As a collaborative couple, going through this process together, we were asking these questions of both ourselves and our business:
What value are we providing for others?
What projects are an ideal use of our time?
Are we playing to our strengths?
Are there services we should stop offering?
Are our systems and processes streamlined and ready to scale?
What does growth look like for us; as individual people? As a business? As a couple?
Ben and I are a husband-wife duo running a digital creative agency. I handle the majority of the strategic planning, design, and consulting, while Ben handles technical strategy and programming. Together we help people plan, design, and launch new products and services, courses, web apps, etc.
In 2014 we merged our two freelance businesses under one umbrella, Oki Doki. We each had successful solo consultancies, long-standing clients, and a large body of work.
We also had an idea to build a course delivery platform to help us with our client work, and figured this was a good time to build it under a new joint business.
When we started building our software, Doki, we had no idea what would become of it. We knew services. Services were easy for both of us. We relied on word of mouth referrals, and neither of us had ever had any kind of marketing engine. Running software was a completely different beast.
We quickly assembled a very placeholder website while we were figuring out our new position, our services, our software, etc.
And then we didn't touch it for three+ years.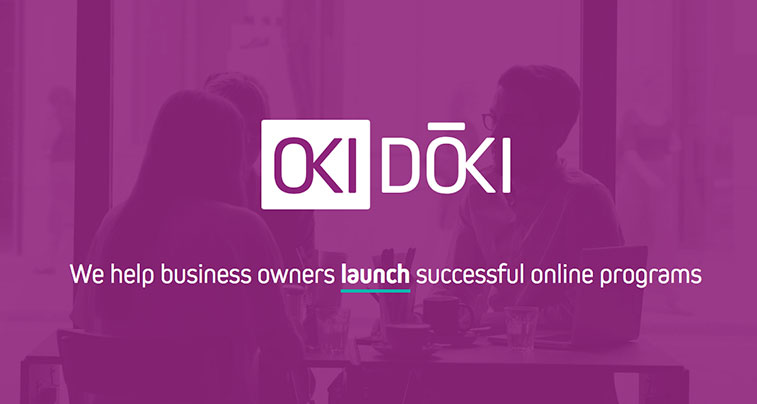 "Old and Busted", c. 2014–2018, R.I.P.
What happens when you're in transition, or you've outgrown your current online presence, but don't quite know where you're heading?
This was the predicament in which we found ourselves, and so we delayed updating our website until we had a better sense of where we were heading.
Being in that grey area was tremendously challenging for both of us, personally and professionally.
So much had shifted for us in those three years. We:
Bought a house (in the woods, in a place we'd never been before)
Got married
Launched our software
Niched our services to support our software
Took on new hobbies:

Ben joined a fire department as a volunteer
I started my permaculture studies

Launched a new online program (Run Your Learning Launch)
Our website became painfully outdated in terms of how to work with us, what we did, and what value we could deliver for our clients. Back then, we simply took our best guess at where we were heading, and gave ourselves permission to figure it out as we went along.
I was moving my design services into mentorship and teaching, and launched a successful online mentorship school that helped bring in enough revenue to sustain us both while Ben focused on building our idea: a software platform for people who run courses and mentorship/coaching programs (Doki).
Once Doki started getting some traction, we quickly realized that we couldn't rely on Ben alone to "handle" the Doki side of things while I was running my program and working with clients.
We had to make difficult decisions over the years, and being two ambitious people with very different strengths, goals, and perspectives, we didn't always arrive at the same conclusions.
We made several pivots to our services over the years, including strategy, design, and marketing support for those who were launching online courses.
Building a software company together was and continues to be the ultimate learning experience (on every level).
Now enter one of the most challenging experiences we've ever encountered as a couple: redesigning our website.
Why was this process so damn hard? This is what we do for a living!
After so many adjustments and pivots to our services, we were both struggling to articulate what we did as a company. It was a personal/professional identity crisis (you can read more about that here).
Ben and I, while working together under the same umbrella brand, have typically worked with our clients separately. We each have our own ideal client, and types of projects that we attract, and our ideal clients are suited to our skills individually. Once in a blue moon, we work together on the same project, but typically we've operated as two individuals within our business.
How do we abide by the Rule of One when we maybe-sort-of have different audiences and ideal clients between the two of us?
The process of reworking our website was the beginning of us—both individually and as a partnership—working through our fears, insecurities, goals and dreams, and getting on the same page about our services and vision of the business.
It wasn't easy. It was the first time we were facing this level of tension and resistance. We found ourselves bickering and getting heated. Resentful. Misunderstood. There was clearly more to this process than just "redoing our website."
It was personal, and it was business. We work together from our home; there's no way our business decisions wouldn't impact our relationship and our partnership at home.
So how did we finally move forward and get traction with such a PITA client like ourselves? There were a few things that helped us get on the same page...
👩‍⚕️ Getting outside perspective
We made the decision to reach out to a couples counsellor. (I half wondered if there wasn't a therapist out there who specializes in couples who run SaaS business together, which seems like a lucrative niche, but alas...)
I wrote her and said something along the lines of:
We live + run a home-based business together, and we recognize that in order for us to be healthy/happy at home, AND at work, we may need to put better strategies in place to make sure both of our needs are being met :)
We began a powerful process over the next six weeks which helped us on so many levels.
While our therapist wasn't going to help us write our website copy, she could certainly help us understand our default patterns that we go to when we're stressed, scared, or not feeling seen.
It's no coincidence that we finished our final session with our therapist the same week that we finally launched our website.
The work we did together in those sessions was invaluable to us getting the project done. Not only were we able to build more awareness of our default patterns, but we had a chance to really develop a deeper appreciation of our different ways of being; both in life and our work.
Seriously, if you're a couple that works together, I can't recommend it enough!
🎯 Getting clear on our offers
Once we finally started moving out of the grey area (our identity crisis) and let go of what we thought we needed to do/be, we started to have more clarity.
What were our best projects/clients?
Where was the majority of our revenue coming from?
Where do we feel the most excitement and energy in our work?
Where was there market potential and unmet needs in the market?
Where do we naturally excel?
We did some tough digging into these questions, and got really honest about the kind of work we should be doing.
We realized that we were spending way too much energy to grow our lowest priced, lowest touch offer! The truth is, we are high-touch people who do services well. It's where we shine! We get invested in people and their projects. We love long-term, deep-dive work. It didn't make sense for us to build our whole business around such a low-touch offer.
We acknowledged that we both love projects that involve all parts of the process, from initial strategy and planning, to design, all the way through to development, and beyond, including marketing automation and sales funnels. Yes, it's a lot, but it's all work we love doing.
You can read more about how we "un-niched" here.
🤝 Working collaboratively
This seems like a big obvious one, but having operated mostly as two individuals, we were used to doing things on our own. We each had different contracts, different ways of communicating, and different types of projects. This project required us to get aligned and work together.
One of our biggest a-ha moments was when I finally showed Ben my client proposals. When he finally saw how I'd been structuring my proposals, he was like, "THIS. THIS IS IT. This needs to be our web copy!" I'd already done so much work to carefully describe my process, ethos, and expectations to my existing clients, but we weren't doing that anywhere on our website. I'd already written tons of documentation for current clients; I didn't really have to start from scratch (at least on this piece).
We'd also each tried working on the design and copy separately, to show the other what we were envisioning. We both spent time going down rabbit holes, exploring ideas...but it was only once we started working collaboratively on both the copy, structure, and design that we were able to start making serious progress.
Surprise! We're stronger working together than when we work in a silo.
🔥 Starting from scratch
We knew we had slapped together our first website. Now that we were starting fresh, we asked ourselves, what would it look like if we took the time to design it properly, from the "first principles" of our business?
We initially tried iterating on our existing placeholder website, and, in truth, that kept us stalled. There are times to iterate, and there are times to burn it all to the ground. It was time to start with a clean slate.
Ben iterated on the site first, and I wasn't feeling the direction. It felt too technical and serious, and perhaps spoke more to the agency audience Ben was accustomed to, but I could see what he was trying to do, and it gave me a great starting point.
It took some time to find our groove, but starting fresh was actually easier than trying to fix something that wasn't really working in the first place.
---
It's been an epic journey to level up our online presence and feel like our online communication matches up with what's really happening behind the scenes.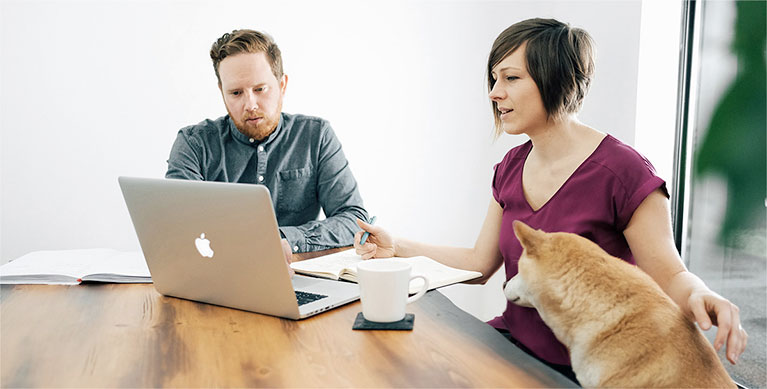 It took niching too hard on "online courses" for us to realize that we were missing out on projects we really love.
Our previous site was designed to support a software product, when really, we're a services duo who happens to also have a software product.
We don't just provide course software, we design sustainable business ecosystems that support our clients through numerous types of launches and span multiple customer touch-points.
Whether it's a yoga teacher taking their online program to the next level, a chiropractor creating a seamless digital to in-person patient experience, or an industry leader transforming her in-person certifications into a location-independent digital experience, we know how to create memorable online experiences.